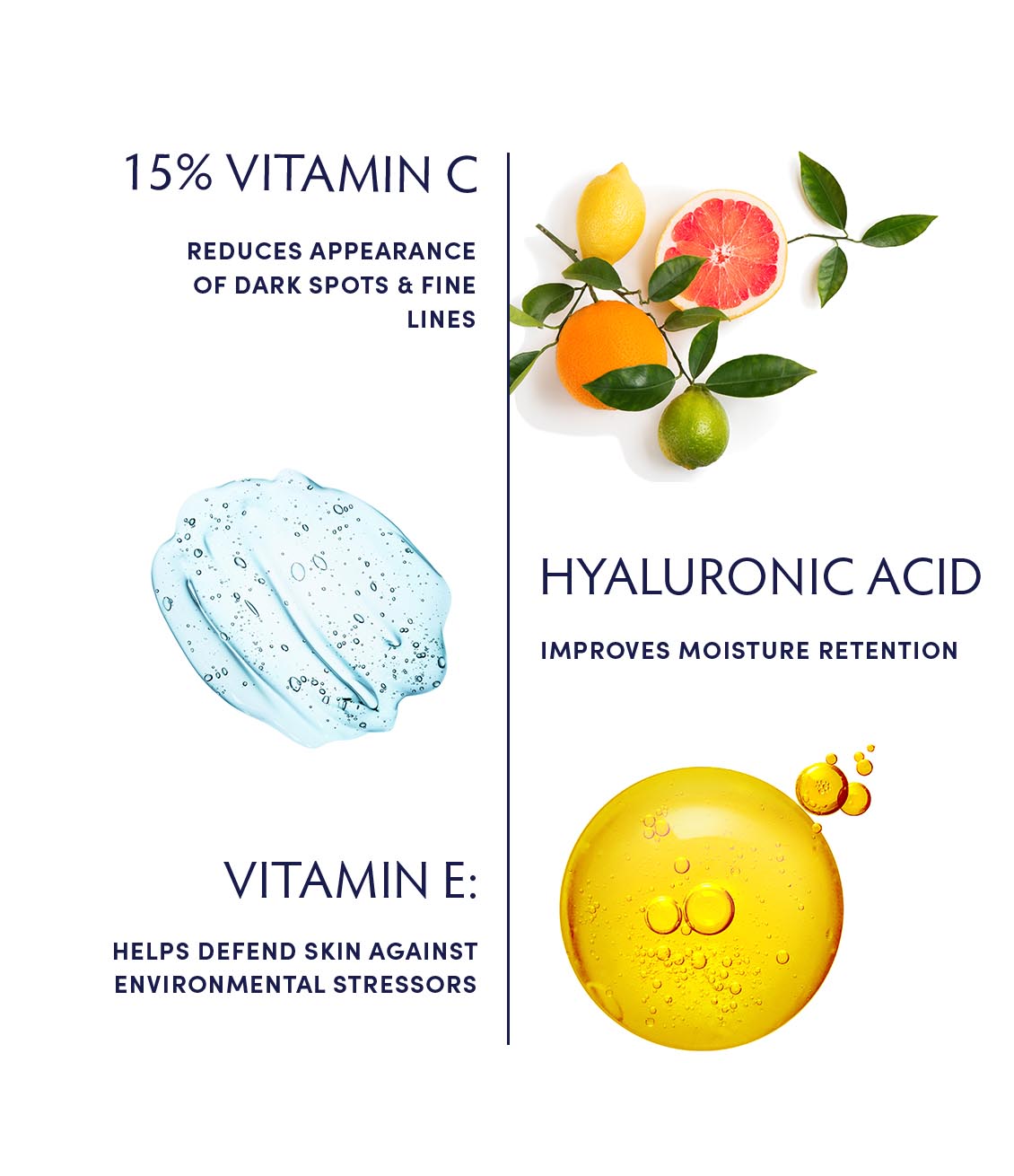 Brightening

Firming

Smoothing
15% Vitamin C (L-Ascorbic Acid)
Clinically proven to be the most effective form of antioxidant rich Vitamin C; known to help reduce appearance of dark spots, combat fine lines and wrinkles
Vitamin E
This powerful antioxidant is reported to synergistically enhance Vitamin C to help prevent elastin damage
Hyaluronic Acid
A powerful humectant that helps improve moisture retention to quench dull, dehydrated skin
AFTER 2 WEEKS*
91% agreed their skin looked brighter and more radiant
*Based on 34 participants
Everyone's talking about "clean beauty." At Naturopathica, it's not a buzzword—it's who we are, and who we've always been. To us, clean beauty means fusing plant extracts and botanicals with scientific ingredients that are skin friendly, planet friendly, and proven to drive real results. (Because let's face it, the only truly sustainable products are the ones you use until the very last drop.)
How to use
The Ritual:
Pump a nickel-sized amount of Vitamin C15 Wrinkle Remedy Serum between the fingers. Massage onto skin in upward and outward motions. End with short, upward strokes on the neck and décolleté.
The Enhanced Ritual:
To encourage lifted features: Starting at the jawline and working your way to the cheeks, apply in upward and outward strokes, finishing on the forehead with an emphasis between the brows.
To protect sensitive skin that's prone to irritation or redness: Press the serum gently into skin, avoiding any pulling motions.
To stimulate blood flow and reduce puffiness: Starting at the jawline, apply in quick, short upward strokes. Work your way to the cheeks, finishing on the forehead.
To target wrinkles: Apply a small amount of serum to the fingertips, and gently press directly into lines of concern between the eyebrows, across the forehead, or connecting the nose and mouth.
For Maximum Holistic Results:
To further enhance brightening results, double up on your vitamin boost by layering Vitamin C Revitalizing Lotion over the serum. To purify and illuminize skin without damage, exfoliate twice a week with lactic, tartaric and mandelic acids. (Find them in our Sweet Cherry Brightening Enzyme Peel.) Enhance your results and your skin's safety by applying SPF 30+ daily. A strong sunscreen (try Calendula Essential Hydrating Lotion SPF 30) reduces the chances of hyperpigmentation, and ensures Vitamin C can do its job.